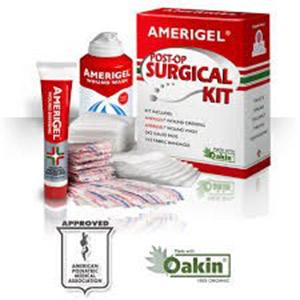 Amerigel Post Surgical Kit
You'll get a generous 1-ounce tube of Amerigel Wound Dressing, as well as a 4-ounce bottle of Amerigel Wound Wash. Plus, you'll receive 30 fabric bandages and 30 dry gauze pads - enough for once-a-day dressing changes!
We know that taking care of wounds can be a hassle, but with the Amerigel Post-Op Surgical Kit, it's easy and stress-free. You'll love the convenience of having everything you need in one handy package, and you'll appreciate the peace of mind that comes with knowing you're using top-quality products that are designed to promote faster healing and better outcomes.
So why wait? Order your Amerigel Post-Op Surgical Kit today and start enjoying the benefits of easy, effective wound care! Your body will thank you for it.